Overview
Programme structure
Tuition fees
Admission
Tutorial support
Complete your management training in the fields of science
and technology!
This Bachelor is fully taught in french
The Bachelor's degree programme in Business Engineering is a comprehensive first academic introduction to the world of management and technology.The programme is based on 4 axes: sciences, quantitative methods of management, finance, computing and information systems.
At the end of the programme, students will be able to apply management methods and more specifically quantitative methods, to pass on the knowledge acquired and re-contextualise it in a given situation, and to employ appropriate tools to complete a specific project.
At the end of the programme, students will be able to communicate orally and in writing in French, English
and at least one of the following languages: Dutch, German, Chinese, Spanish or Italian.
 
"L'ICHEC offre beaucoup d'opportunités internationales. J'ai eu la chance de partir à New-York en première année pour une formation sur les FinTech"
Sybille, Bachelier en Ingénieur commercial
The Bachelor's degree in Business Engineering is taught over 3 years.
It is a transition degree which gives students a solid basis for the Master's programme.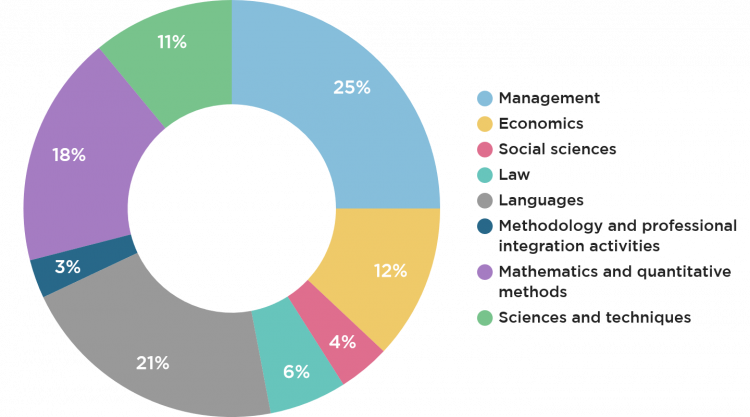 The training foundations at ICHEC
International perspective

Unique in Belgium !
After the 1st year, you have the opportunity to participate in a 4-week Summer Programme in New York.
In the 2nd year, you can get involved with the Housing Project, a humanitarian project supporting development in India, Burkina Faso or Benin.
---
In the 3rd year, you can take part in an Erasmus exchange programme at one of our 150 partner universities and colleges in 60 countries all around the world.
Academic excellence

The quality of ICHEC and its programmes has earned it solid recognition internationally: the institution is the first French-speaking Belgian Management School to obtain the American AACSB. quality label. ICHEC counts itself among the 5% of management schools in the world that have been awarded this quality label.
Bound to reality, bound to action

To truly learn, there's nothing like being confronted with the reality on the ground. Our teaching brings together the discipline of concepts with practical requirements.
We offer opportunities for company work placements for students as early as in their bachelor studies. In the 2nd year, students will have to deal with a technical issue during a work placement organised in an industrial or commercial setting in Belgium or abroad.
Integrative learning

ICHEC tailors to the needs of each and every student! Our small-scale auditoriums and numerous activities conducted in small groups mean that we can be very close to our students.
Our tutorial support team offers mentoring, conversation sessions, support workshops and individual tutoring to enable every student to succeed in his/her studies.
Our student social service advises and assists students dealing with difficulties of a personal, family or financial nature. We also offer, on request, support measures for students with specific needs.
Student status

Fees/year of study

Belgian

836€*

From the European Union

836€*

From outside the European Union

2.323€

*
*This amount is subject to change as a result of any possible legislative changes
Admission requirements
You must have a  Belgian secondary school CESS or DAES (before 93-94)
or  a  European "Baccalaureat" certificate or International  Geneva certificate
or  an equivalence of your secondary education certificate valid for long-term university-level management programmes
or have passed an entrance exam organized by a Belgian university
Have paid tuition fees and completed enrolment admission file
Have passed a French-language test if the admission certificate comes from an institution in which French is not the main language
You may not have been registered twice over the last 5 years  in the same year of study, for the same subject, in a university-level institution,  or 3 times over the last 5 years in the same year of study, for whatever subject, in a university or in a university-level institution.   
ICHEC Brussels Management School does everything possible to enhance your chances of carrying through your academic project successfully,  especially in the first year of the Bachelor's degree programme.
Our pedagogical support service helps you in the transition from secondary to higher education.
Our student social service advises and assists students dealing with difficulties of a personal, family or financial nature