Master's degree - Business Analyst - Work-linked ICHEC - ECAM
Overview
Programme structure
Tuition fees
Admission
Management with a focus on digital technology
This Master is fully taught in french
Launched in 2017, the new Master's degree - Business Analyst with work-linked training provides training for managers specialising in management IT, a skill in high demand on the job market.
ICHEC and ECAM have joined forces to tackle the shortage of skilled labour in the ICT sector (information and communication technologies).
This shortage is particularly marked in the Belgian business world.
Work-linked training
The Master's course combines teaching periods and paid work placementsin equal proportions. This method offers a level of skills that is more in line with reality on the ground.
What prospects does this programme offer?
Graduates awarded the Master's degree - Business Analyst co-awarded by ICHEC-ECAM will be prepared to take up roles focused on digital transformation. They will be able to optimise, formalise and automate management processes by employing the most effective digital technologies.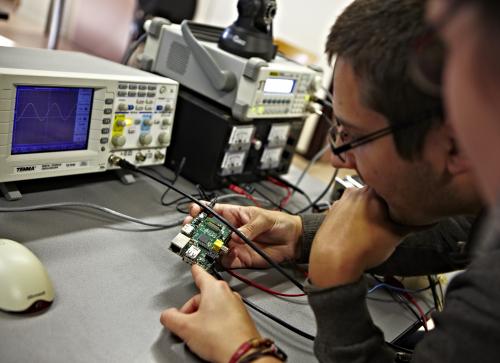 "C'est très important de comprendre la personne qui va communiquer avec nous puisqu'on fait le pont entre l'IT et les autres départements"
Alice, étudiante en Buiness Analyst
"L'avantage de l'alternance est qu'on est une fois en cours et une fois en stage: la théorie est toujours fraîche dans nos têtes et on peut directement l'appliquer au terrain"
François, Student - Business Analyst
Code
Course
Hours
Quadri
Credits
Teachers
21BA065
Mathématiques pour Business Analysts
60
Q1
5
21BA092
Projet en entreprise
160
Q1 Q2
16
21BA095
Rapport de stage
Q2
7
Gestion
21BA010
Stratégie digitale
Q2
5
21BA020
Gestion de projets informatiques
Q1
5
21BA030
Ingénierie des exigences
Q1
5
Informatique et systèmes d'information
21BA040
Architecture web
Q2
6
21BA050
Structure de données
Q1
5
21BA060
Conception et développement logiciel
Q2
6
Code
Course
Hours
Quadri
Credits
Teachers
22BA040M
Mémoire en Business Analyst
Q1 Q2
19
22BA055
Projet en entreprise
150
Q1 Q2
14
22BA090
Néerlandais B2
60
Q1 Q2
5
Gestion
22BA030
Aide à la décision
60
Q1
5
22BA040
Stratégie et gouvernance TIC
60
Q1
5
Informatique et systèmes d'information
22BA010
Réseau et sécurité
Q1
6
22BA020
Projet intégrateur
60
Q1
6
Langues
21BA070
Néerlandais (niveau B2)
Q1 Q2
5
| Student status | Fees/year of study |
| --- | --- |
| Belgian | 836€* |
| From the European Union | 836€* |
| From outside the European Union | / |
*This amount is subject to change as a result of any possible legislative changes
This program is not available to students from outside the European Union
The following degrees grant immediate access to the Master's programme  via our online pre-enrolment platform
Short full-time Bachelor's degree programmes
Écriture multimédia
Gestion des ressources humaines
Commerce et développement
Comptabilité
E-business
Marketing
Informatique et systèmes
Informatique de gestion
Commerce extérieur
Bachelor's degree programmes
Information et communication
Sciences économiques
Gestion d'entreprise
Ingénieur commercial et/ de gestion
Sciences de l'ingénieur industriel
Sciences de l'ingénieur
Masters
Communication
Gestion de l'entreprise
Sciences économiques
Sciences commerciales
Ingénieur commercial ou de gestion
Sciences de l'ingénieur industriel
If you don't fall into one of the above categories, please submit your file review request to Martine Janssens
This programme is not available to students coming from outside the European Union