ICHEC does everything possible to guide you in your choice of studies!
Studies information office
Throughout the year, the studies information office offers 1:1 meetings to advise you on your choice of studies.
Feel free to get in touch or pay us a visit !
Montgomery Site
Boulevard Brand Whitlock, 4
1150 Bruxelles
 

Opening hours
| | |
| --- | --- |
| Monday, Wednesday and Friday | by appointment |
| Tuesday and Thursday | by appointment |
Open house
An opportunity to meet the head of the school, faculty members and students, to explore our campuses, ask questions and get a feel for student life at ICHEC…
A general information session will give you an overall picture of the various programmes and professional perspectives as well as life at ICHEC.

Members of the teaching and scientific faculty will be on hand to provide information on the different subject areas (mathematics, languages, accounting, internships, theses) as well as the course requirements.

You will receive all necessary information on enrolment procedures, social services, preparatory courses, international exchanges, internships and theses…

Students will share their experiences with you regarding the course programmes, ICHEC's strong points, exams, student life, traditional student activities, the tutorial support team…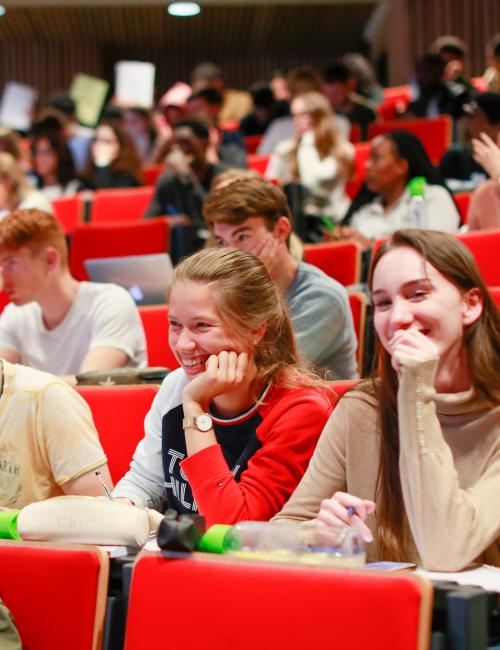 Open House 2021
Saturday
March 6
Digital edition
Monday
June 21
From 6 p.m. to 8 p.m.
More information to come
Tuesday
September 7
From 6 p.m. to 8 p.m.
Montgomery Site
Masters info evening 2021
Tuesday
April 27
From 6 p.m. to 8 p.m.
Digital edition - More information to come
Fairs and exhibitions
ICHEC takes part in various educational fairs in Belgium
27 and 28.11.2020 : Salon Etudes et Professions (SIEP) in Bruxelles (Tours et Taxis)
23 to 26.11.2020 : Info Masters - Louvain-la-Neuve
26-27.02.2020 : Salon Etudes et Professions (SIEP) in Namur ( Namur Expo)
C.I.O.
information evenings
The Information and Orientation Centre (CIO-UCL) organises several information evenings on higher education studies with the aim of helping you to make your choice. ICHEC is involved in several such events.
Info-Sup Nivelles : 13.10.2020  (virtual)

Collège Saint-Pierre, Jette : 12.11.2020

Collège Cardinal Mercier, Braine-l'Alleud : 17.11.2020

Collège du Christ Roi, Ottignies : 24.11.2020

Collège Don Bosco, Brussels : 21.01.2021

CES Libre ND des Champs, Uccle : 11.02.2021